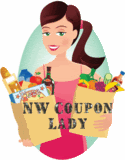 Thank you for all the comments. It really helps me know what people would like to see on my site.
I will start putting my shopping pictures, everyone loves to see those.

I will make sure I have one or two slow cooking meals a month. I love my slow cooker but basically I just throw in meat and seasoning and I'm good to go. Check out my other recipes, see my labels tab:

Bargain Meals

, 1

Trip 1 bag 5 meals

you may see a couple more.

I will move my advertisements from time to time (gotta make a couple bucks).

The blog list I follow are always on my side bar. I look at them everyday and when I see a blog that I think we all would like to see I add it. I look at those blogs everyday so sometimes I don't want to repeat what they already have on their site.

I will make sure I put some free items a few times a week. I normally only list the ones I think are worth while. I love free stuff also.

I am trying to change the listing of my WinCo foods to list things by aisle, of course your store might be a little different but I'm hoping you can take my list and go down the aisles and find what you need.

I would love to have my giveaways. I'm hoping more companies contact me to give away free items.
Thank you for viewing!!
If you would like to see something different or added just shoot me a message at horsley_fricke@msn.com . I have no problem making things easier for us.